Why these resources?
Competency-based approach
Adult Education in Quebec is in the middle of a transformation. Our new programs follow a competency-based approach and so our students are being asked to demonstrate their learning differently than before. Our new History of Quebec and Canada courses will be no different and the resources in this article may be able to help you and your students transition to this approach.
Interest in teaching in stations
Some of the resources here were developed specifically for use in stations, where students move from station to station in order to work somewhat independently and in small groups while the teacher is able to focus his or her attention on small groups of students at a time.
Because of the modular nature of a stations approach, the resources can easily be taken and used in a variety of contexts:
stations
teacher-led activities
individualized learning, within a multi-level or multi-subject classroom
online
blended learning environment.
Universal Design and Flexible Learning
Universal Design allows us to develop materials and environments that are accessible to as many users as possible (Meyer, Rose, & Gordon, 2014). The impact of this on education is that there is not only one way to learn, so it follows that there is never only one way to teach. We included two different approaches to teaching and learning units in HST-4103-2 because we wanted to show some different ways of approaching competency development in History. These resources can be used together or apart in a flexible approach.
Please note – further integration of specific response tools is ongoing. 
The Resources
Resource set 1 – Act of Union, Responsible Government, Colonial Economy
These resources can be used by both teachers and students in a variety of settings ranging from in the classroom to online.
There is a focus on the development of the intellectual operations alongside practice of competency development evaluation activities.
Learning resources are presented in this slide show and can be split into different sections to be used by students. There are some suggestions for methods of response in the speaker notes on some slides.
Make a copy of the Section 1 slide show for your Drive
Document Package for Section 1- Word document
To come – Google Slides version of Document package 
To come in 2019-2020 – tie-in with program evaluation grids.
Resource Set 2 – First phase of industrialization
This set is a teacher package that can also be used in multiple settings. It focuses on the development of the following skills in relation to Competency 1 – Characterizes a period in the history of Québec and Canada and Competency 2 – Interprets a social phenomenon.
Synthesis skills for pulling out important information while note-taking
Document analysis
Interpretation
It also incorporates elements of creativity through sketch-noting. It can be used as a step towards being able to represent a historical period through a graphic organizer.
Make a copy of this slide show for your Drive
Document Package
Creating a document package as a slide show has some benefits:
There is no need to play with tables, which can be frustrating.
The documents can be viewed as a presentation for closer analysis
You can hide specific slides from presentations if you want.
They can be printed easily without worrying about breaking tables as you print.
You can also easily choose which slides to print if you decide to modify the number of documents.
You can determine how many slides you see at a time in the view settings on Google Slides or PowerPoint. This helps to increase accessibility for students who can be overwhelmed with too much information at a time as they are developing their competencies.
Make a copy of this document package for your Drive.
Here is a doc version of the same package.
Recommendations for oral evaluation is included in the teacher package.
To come in 2019-2020 – tie-in with program evaluation grids & options for digital versions.
These resources were developed by Emilie Bowles and Daniel Cuvalo in the Spring of 2019, in partnership with Tracy Rosen, RECIT Provincial Service to Adult Education.
If you would like more information about these resources or if you have something you would like to add to this tile, please contact Tracy Rosen.
All materials are expected to be reused and shared according to this Creative Commons license, unless otherwise noted: CC BY-NC-SA 4.0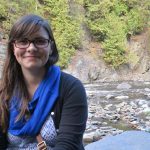 Emilie has been teaching in adult education since 2014. She is currently doing a Masters in Educational Technology at Concordia and recently joined the RECIT network as an ed tech consultant. Find her on Twitter @ebowles_RECIT
Daniel has been teaching English, social studies, and the arts since 2008. He is currently teaching adult education at the Sir Wilfrid Laurier School Board and is enrolled in graduate studies at McGill University.